Music
Concerts of the Cyprus Symphony Orchestra in June, in Nicosia and Pafos
23 June 2017- 24 June 2017
The Cyprus Symphony Orchestra in two unique concerts in Nicosia Palas Theatre and Pafos Talas Amphitheatre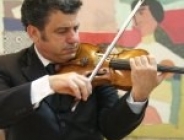 The Cyprus Symphony Orchestra presented on 23 and 24 June 2017, a very special program, in the frame of the event entitled "THE BRIDGE".
The dramatic introduction of Joseph Haydn's opera "L'ISOLA DISABITATA" which marked the German-speaking world of literature and music from the late 1760s until the early 1780s.
The "Concerto for violin and piano in Fa Minor" one of the seven concerts written by Haydn for himself.
The traditional Cypriot songs "Tessera pallikarka", "Agapisa tin 'pou karkias" and "Tsiakkara-makkara" which inspired Alkis Baltas to create new melody edits by using the rich sounds of a modern symphony orchestra.
Melodies and rhythms of Cyprus, such as Zeibekikos, Syrtos, Tsifteteli and the traditional 'mantra' dance, inspired Ali Hoca to create a work full of love, pain, melancholy and joy.
The orchestra was conducted by Ali Hoca. The soloists Harris Hatzigeorgiou and Esra Poyrazoglu Alpan participated.
The Artbassador provided the Orchestra with the music material of the work L'ISOLA DISABITATA overture by Joseph Haydn, on behalf of the Publishing House ALKOR EDITION KASSEL.