Music
"149" - TRIBUTE IN MEMORY OF THE CHORTIATIS HOLOCAUST
07 June 2023
JOVENATA ENSEMBLE ORCHESTRA AT THE THESSALONIKI CONCERT HALL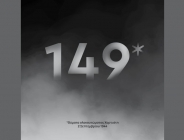 On the occasion of the Chortiatis Holocaust, which took place on September 2, 1944, the Thessaloniki Concert Hall in collaboration with the Municipality of Pylaia-Chortiatis, presents "149", an inspired dance performance, accompanied by the JoveNata Ensemble Orchestra.
The work, created by the dance group Krama Project and the JoveNata Ensemble Orchestra, in collaboration with Bloom Theatre Group, combines uniquely, music, dance and historical documents, bringing this tragic event to life!
Under the music direction of the conductor Michalis Trachalios, the Orchestra will perform the following works:
Chamber Symphony in C minor, op 110a, by Dmitri Shostakovich
Crisantemi in C minor, by Giacomo Puccini
Elegy for string Orchestra, by Pyotr Ilyich Tchaikovsky
THE ARTBASSADOR provided the Orchestra with the music material of the work "Chamber Symphony in C minor, op 110a", by Dmitri Shostakovich, on behalf of the Publishing House BOOSEY & HAWKES UK.