Theatre
7 ANOS by Jose Cabeza & Christian Conti
In Panhellenic premiere, an inspired performance! At APOTHIKI Theatre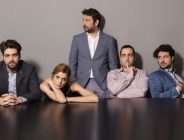 In Panhellenic premiere, the theatrical adaptation of the Spanish feature film 7 ANOS (Production 2016) is presented, under the direction of Odysseas Papaspiliopoulos at Apothiki Theatre.
A business, four friends and associates, a fraud, a mediator and a very important deal under time pressure, as one of the four will have to sacrifice himself and go to jail for ... 7 years, so as to save the company and his colleagues! The work may not be widely known, but the theme and the conditions that it describes are more than known.
At 7 ANOS, the layout of the stage is not that of a stage-square. The audience sits on benches, amongst the heroes' offices, so every spectator has a different view of the performance and a different "close up".
The leading roles are performed by Alexandros Logothetis, Konstantinos Aspiotis, Orpheas Avgoustidis, Alexandra Aidini and Giorgos Christodoulou, in a performance – proposal which immediately received excellent reviews.
It is worth seeing it! Bravo to all of you!!
What a performance! What interpretations! Many congratulations to the actors for this superb result! We are excited!
One of the best performances I have ever seen!
THE ARTBASSADOR has licensed the Greek production of the stage adaptation of the film 7 ANOS, on behalf of the Spanish Collecting Society of Authors and Publishers SGAE (www.sgae.es)