Music
A CHRISTMAS FESTIVAL
23 December 2022
THESSALONIKI STATE SYMPHONY ORCHESTRA FOR THE THESSALONIKI YMCA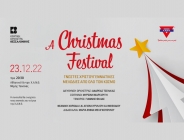 Once again, the Thessaloniki State Symphony Orchestra participates in Christmas celebration, with its annual festive concert, this time dedicated to famous Christmas melodies and songs from all over the world.
Under the music direction of the conductor Andreas Tselikas, the Orchestra and the soloists M. Margariti, G.Filias, along with the Youth Choir of St Ciryl and Methodius church, will present songs and marvelous melodies from beloved musicals by C.Porter, D. Shostakovich, F. Loewe, G. Gershwin etc.
THE ARTBASSADOR provided the Orchestra with the music material of Cole Porter's works, So In Love, Begin The Bequine, of Irvin Berlin's work, White Christmas and Dmitri Shostakovich work Festive Overture, on behalf of the Publishing House BOOSEY & HAWKES UK.