Theatre
FRATERNITÉ, CONTE FANTASTIQUE by Caroline Guiela Nguyen
06 July 2022- 07 July 2022
Athens Epidaurus Festival, Peiraios 260 venue, 6 & 7 July!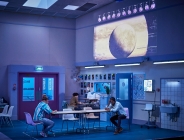 After the extraodinary performance"SAIGON", which thrilled audiences at the Athens Epidaurus Festival 2019, the French-Vietnamese artist Caroline Guiela Nguyen returns with a science fiction fairytale and a diverse, multilingual ensemble of professional and non-professional actors, highlighting the invaluable importance of "Fraternity" for the future of our planet.
THE ARTBASSADOR represents the creators-members of SACD of the play:Caroline Guiela, Claire CalviI, Alice Duchange, Benjamin Moreau, Jérémie Papin, Antoine Richard, Hugo Soubise, Manon Worms, Teddy Gauliat-Pitois, Dan Artus, Elios Noël, Anh Tran Nghia, Hiep Tran Nghia, Jeremie Beguin και Βoutaina El Fekkak.