Music
A TRIBUTE TO THE CONDUCTOR CLAUDIO ABBADO
13 May 2019
CONCERT OF THE NATIONAL SYMPHONY ORCHESTRA OF THE GREEK R/TV ERT AT THE ATHENS CONCERT HALL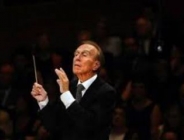 The National Symphony Orchestra of the Greek R/TV ERT, presented on May 13th at Christos Lambrakis venue of the Athens Concert Hall, a concert-tribute to the memory of the great conductor Claudio Abbado . Under the music direction of Michalis Economou, the Orchestra presented works by Giuseppe Verdi and Wolfgang Amadeus Mozart Johann at the first part and Gustav Mahler at the second part.
Τhe following works were presented:
- Giuseppe Verdi (1813-1901) : Overture " La Forza del Destino "
-Wolfgang Amadeus Mozart (1756-1791) : Concerto for Clarinet and orchestra in A major ,K.622 Solo Clarinetto : Alessandro Carbonare
-Gustav Mahler (1860-1911) : Symphony No.5 in C sharp minor
Luigi Marras, the Italian ambassador in Greece commented:
" Claudio Abbado was a unique personality and one of the greatest conductors in the rich artistic and musical history of Italy. His remarkable talent was admired in performances throughout the most famous theaters of the world from La Scala in Milan to the Bunka Kaikan in Tokyo. He was recognized as one of the world's finest conductors and received numerous awards throughout his distinguished career. "
The Artbassador provided the Orchestra with the music material of the work of Gustav Mahler: Symphony No.5 in C sharp minor on behalf of the publishing House C.F. PETERS LTD & CO KG.