Music
A TRIBUTE TO LEONARD BERNSTEIN
04 April 2018
ATHENS CONCERT HALL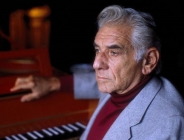 For the 100th anniversary of birth of the great American composer of the 20th century, Leonard Bernstein, the State Orchestra of Athens presented on 4th April at the Athens Concert Hall, the following works, with the well-known Israeli conductor and composer Yoav Talmy:
CHISTESTER PSALMS
SYMPHONY NO 3 KADDISH
The Rosarte Children's Choir, the ERT Mixed Choir and the Mixed Choir of the Municipality of Athens participated in the said concert. Α music collage with faded images between the past and the present was presented under the music direction of Miltos Logiadis, in a co-production of the Athens Concert Hall with the Israeli Embassy.
The Artbassador provided the Orchestra with the music material of the works, on behalf of the Publishing House BOOSEY & HAWKES LTD.