Theatre
EL ANGEL EXTERMINDOR by Luis Buñuel
15 July 2018- 18 July 2018
A macabre comedy without escape!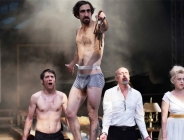 With a bold look and approach, Angela Brouskou adapted for the theatre and directed Luis Bunuel's dark comedy "EL ANGEL EXTERMINADOR", which was presented with great success, for four performances, at Peiraios Theatre 260, from 15 to 18 July, in the frame of the Athens Festival. The script was translated by Themelis Glinatsis.
A dinner takes place at a luxury villa, where the guests realize that they are trapped by an exterminator angel in an environment where they are forced to barbaric actions in order to survive.Just as it happens at the end of life, similarly the guests at the end of their stay in this living room, are waiting for the death. Perhaps this salon symbolizes the life as a salon from where there is no escape.
We admired on the stage, an impressive cast of passionate actors such as: Themis Bazakas, Konstantinos Tzoumas, Parthenopi Bouzouri, Alekos Syssovitis, Haris Fragoulis, Aggelos Papadimitriou, Stavros Litinas and others.
THE ARTBASSADOR has licensed the Greek production of the stage adaptation of EL ANGEL EXTERMINADOR, on behalf of the Spanish Collecting Society of Authors and Publishers SGAE (www.sgae.es) which represents the author's Luis Buñuel's rights.