Theatre
AMERICAN BUFFALO by David Mamet
At Fournos Theatre, since 16 May!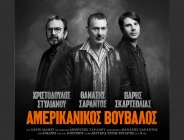 Pursuing a bigger cut of the American dream, three desperate, small-time hustlers organize a burglary. But when their plan begins to unravel, feelings of betrayal and greed will erupt among them, revealing the devastating truth of their lives.
"American Buffalo", by the Pulitzer Prize winner David Mamet, made its Broadway debut in 1977, winning the NY Drama Critics Circle Award for best play. Recognized as one of Mamet's major works, this magnetic masterpiece is an explosive and pointed satire about the great delusion of the American dream. A timeless classic, described by The New York Times (1983) as "…one of the best American plays of the last decade".
Translation : Dimitris Tarlow
Direction :Thanassis Sarantos
Production : ΙΤΗΙΚΟΝ ΑΚΜΕΟΤΑΤΟΝ
Starring :Christodoulos Stylianou, Paris Skartsolias, Thanassis Sarantos
THE ARTBASSADOR has licensed the Greek production, on behalf of the Agency A3 Artists Agency, which represents David Mamet's rights in this play.