Theatre
THE MALE INTELLECT:AN OXYMORON? by Robert Dubac SUMMER TOUR
Starting from Thessaloniki, on 2 July!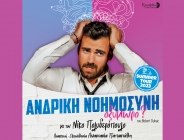 Τwo weeks after he has been dumped by his fiancée, Manos begins his journey of self-discovery, trying to understand the gender gap and answer the eternal male question, "What do women want?"
Robert Dubac's hilarious play "The male intellect: An Oxymoron?" is an international comedic phenomenon. Hailed by critics and audiences alike, this genius monologue is a clever combination of theatre and stand-up comedy which is laugh-out-loud funny, fresh and provocative.
Having been translated into dozens of languages from Hebrew to Hungarian and successfully produced world-wide, this amazing universal piece guarantees to be one of the most talk-about performances of the season!
Translation: A. Papastathi
Direction: A. Papastathi
Production: EROFILI PRODUCTIONS
THE ARTBASSADOR has licensed the Greek production, on behalf of MOMENT-TO-MOMENT PROD. INC, right owner of R. Dubac's play.