Theatre
ANNIE
13 December 2019- 29 December 2019
The most moving musical of all time in a amazing performance, just in time for Christmas!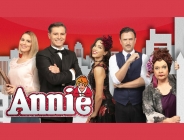 Based on Harold Gray's popular comic strip "Little Orphan Annie", with music by Charles Strouse, lyrics by Martin Charnin and a book by Thomas Meehan, "ANNIE" premiered on Conecticut in 1976 and opened next year on Broadway, where it ran for almost six years setting a record for the Alvin Theatre and becoming a worldwide phenomenon. The beloved musical was the winner of seven Tony Awards, including Best Musical, six Drama Awards and in 1978 won a Grammy for Best Musical Theater Album, while two of the musical's songs, the unforgettable "It's the Hard-Knock Life" and the anthem of optimism "Tomorrow" are considered among the greatest musical theatre hits of all time.
"Annie" has already enchanted over 50 million people of all ages around the world and remains one of the most widely produced plays today, not only because it is the perfect classic family musical, but also because of the heart-warming message of faith and optimism that it portrays. The adventures of little orphan Annie charm everyone's hearts in her escape from an orphanage to the wondrous world of 1930s New York City. Along the way, she finds a home and family for herself in the billionaire Oliver Warbucks and a lovable mutt named Sandy. Her moving tale allows us to experience the magic of Annie's universal quest for family and belonging, whether we have grown up loving her or we are meeting her for the very first time!
The famous musical, production of "GR ENTERTAIMENT WOLRD LTD", is being staged at Tae Kwon do /Athens, since 13 December, just in time for the Christmas holidays! Thanks to an impressive cast of 27 actors-stage dancers, a 20 member live orchestra, 8 talented children and a dog and a great creative team, the audience will enjoy an incredibly entertaining show full of music, dance and emotion. The greatly experienced Themis Marsellou undertook the translation/adaptation of the book and the lyrics in greek language and the direction of the show. Moreover, Ilias Kaloudis undertook the music teaching and orchestra conducting, Anna Athanasiades the choreographies, Mary Tsagari the set designs, Panagiota Kokkorou the costume designs, Melina Mascha the lightning, Karolos Porfyris the video design and Dimitris Bouzanis the vocal teaching.
Leading actors: Mirka Papakonstantinou, Alexandros Bourdoumis, Nadia Boulé, Argyris Aggelou / Aris Plaskasovitis, Katerina Stikoudi. In the role of Annie the Little Ones: Peggy Manolas and Danai Tsoumou.
THE ARTBASSADOR has licensed the Greek production of the show, on behalf of the Agent MUSIC THEATRE INTERNATIONAL Europe .