Theatre
STEEL MAGNOLIAS by Robert Harling
A powerful portrait of women, delicate as magnolias but as tough as steel!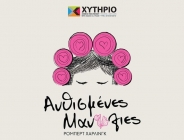 The famous and beloved play "Steel Magnolias", written by the American playwright Robert Harling , produced by Vasia Panagopoulou, translated and directed by Konstantinos Kiriakou is hosted on the summer stage of CHYTIRIO THEATRE/ ATHENS since 27 June 2021. A heart-warming comedy drama which reveals the strength of female friendship through fast, funny dialogue and vibrant characters, in a powerful performance full of emotion!
Premiered off-Broadway in 1987, this remarkable play became an immediate hit. Next year, Robert Harling himself wrote the screenplay for Steel Magnolias' 1989 film version, starring Olympia Dukakis, Sally Field, Daryl Hannah, Shirley MacLaine, Dolly Parton and Julia Roberts. Since then, Steel Magnolias enjoyed numerous successful productions worldwide, translated into 17 languages, while made its Broadway debut in 2005.
Truvy's beauty salon is a regular rendezvous for a tight-knit group of Louisiana women, where they engage in small town gossip, ponder the mysteries of life and death, motherhood and marriage, enjoying a friendship that span the boundaries of age and status. Sharing each other's strength and loyalty, these six remarkable women survive the cycles of life, birth and death to emerge stronger, optimistic and still laughing!
THE ARTBASSADOR has licensed the Greek production, on behalf of the Agency Concord Theatricals Ltd, c/o Samuel French Ltd, which represents the playwright Robert Harling.