Theatre
ANTIGONE by Jean Anouilh
At Art Theatre Karolos Koun, since 15 October! Second run!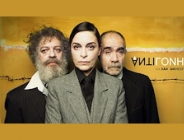 Based on Sophocles's ancient Greek tragedy, which was first performed in Athens in the 5th century BC, "Antigone" by the great French dramatist Jean Anouilh, was written and premiered in Paris (1944), during the German occupation of the Second World War, interpreted as a political parable and causing a great sensation.
Since its debute, this provocative adaptation has been performed in theatres all over the world, becoming one of Anouilh's best known works. In Greece, "Antigone" was first presented in 1946-1947 at the Art Theater, Athens, directed by Karolos Koun, enjoying huge appeal.
This masterpiece, after been successfully presented at the Karolos Koun Art Theater, during the 2021-2022 theatrical period, now returns for a second run, since 15 October, in an outstanding performance, we absolutely need to see !
Translation : M. Ploritis
Direction : M. Protopappa
Production : KART
THE ARTBASSADOR has licensed the Greek production, on behalf of the French Collecting Society SACD, which represents Jean Anouilh's rights in this play.