Theatre
LADIES NIGHT by Αnthony McCarten & Stephen Sinclair SUMMER TOUR
The absolutely successful production travels throughout Greece, since 13 July!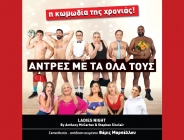 Following its huge success during the winter Theatrical season, the Athens' sold out performance goes on summer tour throughout Greece, with renewed cast and high spirits!
Thanks to an impressive cast of actors and a talented creative team, the Greek production of "Ladies Night", the smash hit comedy by Stephen Sinclaire and Anthony McCarten, promises an unforgettable and incredibly entertaining show full of energy, laughter and emotion! Read more....
Not to be missed!
Translation: Th. Marsellou
Direction: Th. Marsellou
Production: TAGARIS THEATRE COMPANY
ΤΗΕ ΑRTBASSADOR has licensed the Greek production, on behalf of the Agency Casarotto Ramsay & Associates, which represents McCarten's & Stephen Sinclair's rights in this play.