Theatre
DRUK by Thomas Vinterberg & Claus Flygare
At Michael Cacoyannis Foundation, since 2 November! WORLD PREMIERE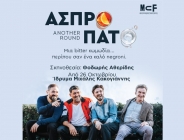 Four tired, disappointed high school teachers, embark on an experiment: to maintain a constant level of alcohol in their blood throughout the workday, hoping that they will improve their lives and rediscover their creativity.But while the results are initially encouraging the situation quickly spirals out of control…
"Another Round-Druk", a 2020 black comedy drama film, directed by Thomas Vinterberg, from a screenplay by Vinterberg and Tobias Linholm, had its world premiere at the 2020 Toronto International Film Festival. In 2021, it won the Academy Award for Best International Feature Film, BAFTA Award and European Film Award for Best Film, along with many other prestigious awards.
This masterpiece work, adapted for the theatre by Thomas Vinterberg & Claus Flygare, has now its world premiere in Greece, in presence of the author Claus Flygare!
Translation: A. Galeos
Direction: T. Atheridis
Production: Performing Arts and Entertainment Ltd
H THE ARTBASSADOR has licensed the theatre adaptation of the film, on behalf of the Agency Nordiska ApS, which represents the theatrical adaptation of the play, by Thomas Vinterberg and Claus Flygare.