Theatre
THE ODD COUPLE / FEMALE VERSION by Neil Simon! SUMMER TOUR
Starting from Kozani Theatre, on 30 June!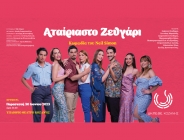 Two newly separated friends with diametrically opposite characters, who decide to live together, will very quickly find themselves transformed into an odd and explosively comic couple!
Neil Simon's classic comedy triumphantly opened on Broadway in 1965 running for nearly 1000 performances and inspired not only the 1968 smash hit film version, starring Walter Matthau and Jack Lemon, but also the 1970s television series.
Responding to the continued popularity of his play, Simon wrote a female version for Broadway (1985), in which all the characters' genders were reversed, perpetuating his "Odd couple" as one of the most memorable pair of characters in the history of commercial theatre.
Translation: D. Stamatopoulou
Direction: L. Plaskovitis
Production: MUNICIPAL REGIONAL THEATRE OF KOZANI
THE ARTBASSADOR has licensed the Greek production, on behalf of ΝΕΙL SIMON LLC, right owner of N. Simon's play, c/o INTERNATIONAL AUTHORS SOCIETY.