Theatre
The nominated for Moliere 2017 French comedy 'Silence on Tourne' by Patrick Haudecoeur & Gerald Sibleyras
The French comedy 'Silence on Tourne' by Patrick Haudecoeur & Gerald Sibleyras, since 25 December 2017, at PEROKE Theatre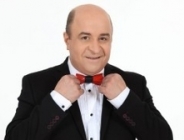 The members of a crazy cinema crew decide to shoot a scene for the film 'A star dies' at "PEROKE" theatre on Friday and 13!! And all of us – the viewers- are present at the shooting. Will this day be an opportunity to show off their talents? or will it be a classical ... jinx "Friday and 13" that will turn into a thriller for all? Or maybe a comic combination of both, resulting to a ….."Black Friday and 13"?
Starring Markos Seferlis with Elena Tsavalia, Yannis Kapetanios, Thodoris Romanidis, Areti Zachariadou, as well as a lot of new collaborators, who are all promising to us a hilarious winter with lots of laughter!
Gerald Sibleyras is a well-known dramatist and screenwriter, whose works have been translated and staged in various countries and many of them have been nominated for the Moliere prize. On 2007, SACD awarded Sibleyras a Theatre Prize and on 2013 the Prize for Adaptation. On 2016, SILENCE ON TOURNE, co-written by Patrick Haudecoeur (very famous for 'The a la menthe ou t' es citron) toured in France, before it was staged in Paris from January 2017 until June 2018!
THE ARTBASSADOR has licensed the Greek production, on behalf of the Authors Gerald Sibleyras and Patrick Haudecoeur and their Agent Agence DRAMA (www.dramaparis.com)