Theatre
THE GOOD DOCTOR by Neil Simon
Αt the Cultural Centre Hellenic Cosmos, since 16 June!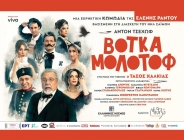 A picturesque portrait of the 19th century Russian society, through a series of touching and hilarious tales, exploring the behavior, habits, obsessions, fears and weird frailties of human beings.
Based on great Anton Chekhov's short stories and adapted for the theatre by the master Neil Simon, "The Good Doctor" opened on Broadway at the Eugene O'Neill Theatre on November 27, 1973, becoming a smash hit!
A touching comedy with classic Neil Simon humor, in a charming and hilarious performance which promises audiences unending entertainment!
Translation: E.Rantou
Direction: N.Chaniotakis
Production: METHEXIS
THE ARTBASSADOR licensed the Greek production, on behalf of the ΝΕΙL SIMON LLC, right owner of N. Simon's plays, c/o INTERNATIONAL AUTHORS SOCIETY.