Theatre
DEFENDING THE CAVEWOMAN by Emma Peirson
At Gialino Music Theater, since 10 January!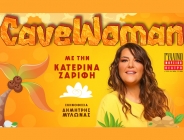 A brilliant, inspirational one woman comedy about men and women desperately trying to survive and co-exist on the same planet, the same country the same city and the worst of all: the same apartment! A hilarious look at the never-ending battle of the sexes!
The female response by Emma Peirson to Rob Becker's "Defending The Caveman".
Starring: Katerina Zarifi
Translation: Adonis Galeos
Direction : Dimitris Mylonas
Production: APO MICHANIS THEATRE
THE ARTBASSADOR has licensed the Greek production, on behalf of Theater Mogul and the translator Adonis Galeos.