Theatre
TΗΕ PLAY THAT GOES WRONG by Henry Lewis, Jonathan Sayer and Henry Shields
Revival of the most successful 2016 production, at panhellenic premiere, at Peroke Theatre, since 19 November!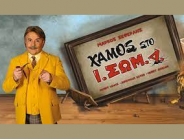 A group of amateur actors take on a prestige production of a 1920s murder mystery play, but disaster awaits at every turn and as the title suggests, everything that can go wrong… does!
Mischief's global smash hit comedy ''The Play That Goes Wrong'', winner of the 2015 Olivier Award for Best New Comedy, is now the longest running comedy in the West End. It was first presented by Mischief Theatre Co in 2012 at the Old Red Lion Theatre, London. In 2014 the play opened at the Duchess Theatre in the West End, where it remains and is currently booking until October 2022.
Direction : Markos Seferlis
Production : COMEDY FACTORY(MARKOS SEFERLIS THEATRE COMPANY)
Starring : Μarkos Seferlis, Giannis Kapetanios, Antonis Vlassis, Giannis Agriomalos, Leonidas Iordanou, Christiana Karnezi, Fanouris Korres, Xenia Konstantinidou,Giorgos Kontogiannis.
THE ARTBASSADOR has licensed the Greek production, on behalf of the Αgency United Agents LLP, which represents the rights of Henry Lewis, Jonathan Sayer and Henry Shields in this play.