Theatre
HARPER REGAN by Simon Stephens
In Panhellenic premiere, at Mavromichali Theatre since 13 December!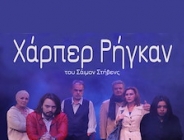 One strange evening, after learning her father is near death, Harper decides to walk away from her home, her family and her job. Without telling anyone where she's going or whether she's ever coming back, she will embark on a life journey which becomes an exploration of loyalty, morality and the bonds of family.
Premiered in 2008 at the National Theatre in London, "Harper Regan", by the multi awarded English playwright Simon Stephens, is an absorbing story of self-discovery. Α beautiful and sharp play, a modern odyssey which explores all the essential principles of life and death.
Τranslation : Eri Kyrgia
Direction : Fotis Makris
Production : Νeos Logos
Starring : Lampros Giotis, Stella Krouska, Fotis Makris, Stella Papadimitriou, Vaso Pavlou, Fivos Samartzis
THE ARTBASSADOR has licensed the Greek production, on behalf of the playwright Simon Stephens and his Agency CASAROTTO RAMSAY AND ASSOCIATES.