Music
Christmas Symphony with the Athens State Orchestra
Christmas Symphony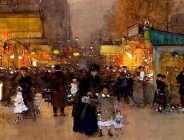 Overwhelmed by the Christmas spirit, the Athens State Orchestra under the direction of their chief musician Nikos Chaliasas and with the participation of the violin soloist Dimitris Semsis, will present during December 2017, travelling throughout Greece, the following popular works, to the lovers of symphonic music:
• Wolfgang Amadeus Mozart
Concert for violin and orchestra no. 2 in Re Major, Κ.211
• Piotr Ilyich Tchaikovsky
Suite for the Ballet ''Nutcracker'' op. 71a
• Leroy Anderson
A Christmas Festival
For the needs of the performances The Artbassador provided the Orchestra with the music material of the work A Christmas Festival by Leroy Anderson, on behalf of the Publishing House G. SCHIRMER INC.