Theatre
LE DÎNER DE CONS by Francis Veber
Αt Municipal Regional Theatre of Ioannina, since 10 April!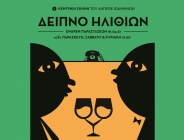 A weekly dinner party, "le dîner de cons", organized by a group of wealthy friends in order to make fun of the each time, unsuspecting guest, the "idiot of the week", will quickly turn into a storm of comic twists with unexpected consequences!
One of the most famous contemporary comedies of the global theatrical scene, "Le Dîner de cons", by Francis Veber premiered at the Théâtre des Variétés, Paris in 1993, thrilling audiences and critics and became an immediate success. A sophisticated, sparkling comedy, full of French spirit, with explosive dialogues and unexpected twists, which will make us wonder how close the boundaries of foolishness and cleverness are… ·
Translation : Nikoleta Kotsailidou
Direction : Michalis Sionas
Production : Municipal Regional Theatre of Ioannina
Starring : N. Grammatikopoulos, Y. Kaperda, V. Benoujilio, K.Sissini, A. Tsabalikas, G. Chiotis
THE ARTBASSADOR has licensed the Greek production on behalf of the Agency Drama Paris-Suzanne Sarquier, which represents the playwright Francis Veber and on behalf of the translator of the play Nikoleta Kotsailidou.