Theatre
DINNER WITH FRIENDS by Donald Margulies
At Alhambra Theatre, since 23 December!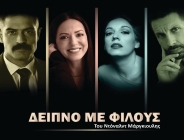 Two married couples, four longtime friends and their bonds. When one announces their divorce, the seemingly calm waters of the other couple's marriage will be disturbed and their relationships will be fractured.
Captivating and deliciously funny, Donald Margulies' multi awarded play is a witty portrayal of relationships and friendship in the age of divorce.
A bittersweet smart comedy, about love and marriage, trust and betrayal in an absolutely sensational performance!
Direction: M. Antoniou
Translation: N. Triantafillopoulos
Production: V. Panagopoulou
THE ARTBASSADOR has licensed the Greek production on behalf of Tuna On Rye Productions Inc, Donald Margulies'right owner, c/o William Morris Endeavor Entertainment.