Theatre
MADAME MARGUERITE by Roberto Athayde
At Alma Theatre, since 28 November!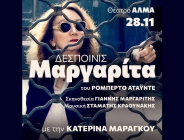 Madame Marguerite is no ordinary teacher… She teaches, teases and taunts her class with an iron fist insisting that "Obedience is the greatest of all virtues"!
Written during the dark era of the Brazilian dictatorship in the 1970s, by the Brazilian playwright Roberto Athayde, "Madame Marguerite" is a searing drama that looks deeply into the heart of power. Originally banned, then censored in Brazil, this caustic political allegory about totalitarianism, which uses a classroom as its central metaphor, thrilled audiences and critics in over 50 countries worldwide, becoming an international classic!
A masterpiece work in a powerful performance, in presence of the author Roberto Athayde!
Translation: K. Taxtsis
Direction: G. Margaritis
Music: S. Kraounakis
Starring: K. Maragou
Production: TEXNIXOROS
THE ARTBASSADOR has licensed the Greek production on behalf of the Agency BUREAU LITTERAIRE INTERNATIONAL, which represents Roberto Athayde's rights in this play.