Theatre
DOUBLE JEU by Robert Thomas SECOND RUN
At Katia Dandoulaki Theatre, since 13 October!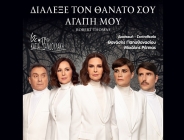 Brimming with intrigue, an extraordinary plot and surprising twists, "Double Jeu", by the multi awarded playwright Robert Thomas, thrilled audiences and critics during the 2022-2023 theatrical period!
Now the successful production returns for a second run since 13 October!
A famous classic work, which will keep audiences guessing until the very last minute. A treat for any mystery-lover! Read more....
Direction: Th. Papathanasiou - M. Reppas
Production: Dandoulaki - Tagaris G.P
THE ARTBASSADOR has licensed the Greek production on behalf of the French Collecting Society SACD, which represents Robert Thomas' right owners.