Dance
27th KALAMATA INTERNATIONAL DANCE FESTIVAL
16 July 2021- 25 July 2021
The annual major artistic event dedicated to dance enthusiasts!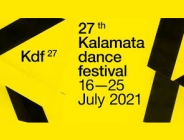 The International Dance Festival of Kalamata was founded in 1995, with the purpose of promoting the art of dance via research, education, artistic activities and production. After twenty-six years of continuous presence in the Greek dance scene, the Kalamata Festival has earned wide recognition among the festivals of the Mediterranean South, becoming one of Greece's most important International Dance Festivals.
Leading influential figures of contemporary dance made their Greek debut in Kalamata and every year many talented Greeks artists present their choreographic work, promoting the contemporary Greek choreographic creation.
During the 27th edition of the Kalamata International Dance Festival, leading Greek and international artists will present their work to art lovers from all over the world, from 16 to 25 July, sharing with the audience 31 exciting and diverse performances, including:
ZEPPELIN BEND, concept and creation by Katerina Andreou, a work which combines dances, actions, and sounds.
INCARNATION, creation and artistic direction by Qudus Onikeku, a work which showcases the depth and pure, uncompromising joy of west African youth culture.
The Artbassador was very happy to collaborate with the Kalamata International Dance Festival, regarding the rights of the choreographers represented by the French Collecting Society SACD.