Music
THESSALONIKI STATE SYMPHONY ORCHESTRA: BARTOK & VIVALDI WORKS
23 July 2020
In the frame of the ATHENS & EPIDAURUS FESTIVAL, a unique concert at Herodes Atticus Odeon!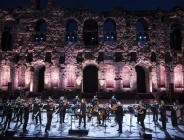 The Thessaloniki State Symphony Orchestra and its famous string instruments are featured in this year's Athens & Epidaurus Festival, presenting two outstanding works.
The concert begins with the demanding Béla Bartók's "Divertimento for String Orchestra" under the music direction of Zoi Tsokanou. A rich in contrasts work that combines neoclassical style with avant-garde modernism, highlighting the dialogue of string instruments with imaginative expression, dynamic juxtapositions and surprising shifts in rhythm that have been established since the time of the concerti grossi. This is Bartók's last work, composed in 1939, just before he fled Hungary and immigrated to the United States, because of the outbreak of World War II and his disdain for the Nazi regime.
Antonio Vivaldi's timeless masterpiece ''The Four Seasons'' will dominate the second part of the evening. Simos Papanas, concertmaster of the Thessaloniki State Symphony Orchestra, is the music director and violin soloist in Vivaldi's work.
The Artbassador, provided the Orchestra with the music material of the work ''DIVERTIMENTO FOR FULL STRING ORCHESTRA'' on behalf of the Publishing House BOOSEY & HAWKES, UK .