Theatre
TONE CLUSTERS by Joyce Carol Oates
Αt Theatriki Skini, since 15 December!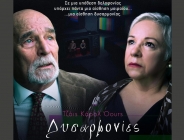 When their son is accused of murdering a neighborhood girl, Frank and Emily, a middle-class American couple, will give the media an interview attempting to clear their son's name. The devastating thought that their son might be guilty is out of discussion!
"Tone Clusters" an intriguing drama by the acclaimed novelist, poet and playwright Joys Carol Oates, premiered in 1990 as part of the Humana Festival of New American Plays at the Actors Theatre of Louisville (ATL), where it won the ATL's Heideman Award.
A powerful and thought provoking story about guilt and innocence, truth and denial, memory and human tragedy!
Translation: N. Χatzopoulos
Direction: A. Antoniou
Production: THEATRIKI SKINI
THE ARTBASSADOR has licensed the Greek production on behalf of the Agency The Ontario Review Inc, which represents Joyce Carol Oates' rights in this play.