Theatre
FUNNY MONEY by Ray Cooney
At Lampeti Theatre since 9 July!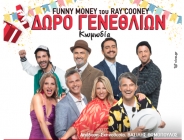 What would you do if you got home from the office and discovered that you'd picked up the wrong briefcase, one full of money, on the train? Call the police, of course! Well, what Henry dicided to do was to escape... with his wife and his best friends to Spain! And from that moment, an ubelievable funny and unpredictable journey begins..
"Funny Money" the famous farce, by the 'Master of Comedy' Ray Cooney, premièred at The Churchill Theatre, Bromley, London, in 1994, followed by a hugily successful two-year run in the West End. A boisterous inspired comedy, in a great performance of high spirits, which promises a unique entertainment full of laughter!
Direction : Vasilis Thomopoulos
Production : IASMOS
Starring : M. Toumasatou, G. Genatas, M. Athanasiou, M. Radou, V. Petsas, P. Albanis, A. Papatriantafyllou
THE ARTBASSADOR has licensed the Greek production, on behalf of RAY COONEY PLAYS KES-EN-NIL, right owner of Ray Cooney's copyright.