Theatre
MURDER ON THE ORIENT EXPRESS by Agatha Christie
November 2018-February 2020! The legendary Orient Express continues its thrilling journey.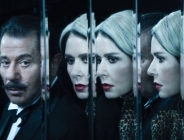 Eight suspects, one thrilling ride... Winter 1934. The luxury Orient Express is travelling through Europe when its journey is halted by a snowdrift. A passenger is found stabbed in his bed, and famous detective Hercule Poirot - who happens to be on his way back to London from Istanbul - is called upon to investigate the murder. Each of his fellow travellers is suspicious...
"Murder on the Orient Express" is widely regarded as one of Agatha Christie's greatest literary achievements. First published in 1934 and adapted numerous times for the big and small screen, the elegant murder mystery about an unlikely cast of potential suspects, all with alibis trapped aboard the luxurious Orient Express during a snow storm, features one of the most iconic fictional detectives of all time – Belgian private detective Hercule Poirot.
Agatha Christie's classic mystery "Murder on the Orient Express", in an adaptation for stage by Tony-nominated playwright Ken Ludwig, had its world premiere at the multi-award-winning McCarter Theatre, Princeton in 2017, directed by Emily Mann. Since then the play has been widely produced with enormous success, promising fans of the mystery classic an unforgettable suspenseful, thrilling ride aboard the legendary Orient Express!
"...a highly enjoyable piece of theatre. It's fun to follow, and it's gorgeous to look at."
-Tim Dunleavy, DC Metro Theatre Arts
The greek production of " TAGARIS BROS", which is one of the first international stage productions, was presented with great success at Katia Dandoulaki Theatre/Athens, directed by Antonis Kalogridis, during two theatrical seasons, thrilling audience and critics. The fascinating performances continue at the Aristotle Theatre/Thessaloniki, beginning 8 February 2020, in a magnificent production promising audience a one-of-a-time experience! Starring: Katia Dandoulaki, Danis Katranidis, Antonis Kafetzopoulos, Maro Kontou, Tasos Chalkias, Tamila Koulieva, Tania Tripi, Takis Papamatthaiou, Solon Tsounis, Errika Bigiou, Lefteris Zabetakis.
THE ARTBASSADOR has licensed the Greek production, on behalf of AGATHA CHRISTIE LTD (ACL), which represents Agatha Christie's rights in this play and the author of theatrical adaptation Ken Ludwig who is represented by WILLIAM MORRIS ENDEAVOR.