Theatre
Ιch Bin Wie Ihr, Ich Liebe Apfel
Theresia Walser gathers the wives of three dictators for a press conference...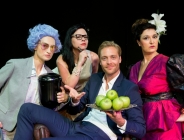 In her play «Ich Bin Wie Ihr, Ich Liebe Apfel» (ie "I am like you, I love apples") - the saying belongs to the Libyan Al-leader Muammar Gaddafi, the dramatist Theresia Walser, daughter of the German writer Martin Walser gathers the wives of three dictators for a press conference organized on the occasion of a documentary about their private life and political career. All three women's common point is that they lead lives mostly in "first lady" role, ignoring, at the same time, the disastrous consequences of their husbands' political activities. In fact, they present themselves as not having the slightest idea of their husbands' actions or remorse for the victims of these actions.

While the eminent ladies are waiting for the press conference along with their interpreter, the spectator realizes that this interpreter acquires a role - key to the development of the play. He plays a game on his own, as these three women are looking eager to continue to play an important role in the international arena of power. Thus, we see the interpreter deliberately translating their sayings in the wrong way, commenting them, misinterpreting and ultimately manipulating them.
The play turns into a parable. Theresia Walser manages to make use of actual historical events in order to examine the effects of the abuse of power and political fatalism.

The play "ICH BIN WIE IHR, ICH LIEBE APFEL", as translated by Joanna Titoki & Sarantos Zervoulakos, who has also directed it, was presented for only six performances at AVLAIA theatre / Salonica, during the period 23/9 - 28/9/2016.

ΤΗΕ ΑRTBASSADOR is very happy to have licensed the greek production, on behalf of the playwright Theresia Walser and her Agent ROWOHLT THEATER VERLAG.