Theatre
EDUCATING RITA by Willy Russel
At Chytirio Theatre and on tour, since 14 July!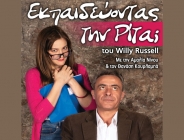 When Rita, a working class hairdresser, enrolls on a university course to expand her horizons, she will meet her tutor, Frank, a brilliant but frustrated academic who's less than enthusiastic about taking her on. However when these two people come together, they will soon discover how much they have to teach each other!
Written by the great British playwright Willy Russel, this heart-warming comedy, premièred at The Warehouse, London in 1980 and then transferred in West End, winning the Olivier Award, for comedy of the year. The play was later adapted by Russel, into the 1983 famous and multi award-winning film, «Educating Rita", starring Julie Walters and Michael Caine.
Translation : George Kimoulis
Direction : Thanasis Kourlampas
Production : POLIS POLITISMOU
Starring : Amalia Ninou, Thanasis Kourlampas
THE ARTBASSADOR has licensed the Greek production, on behalf of W.R Ltd, right owner of Willy Russel, c/o Negus Fancey Agents Ltd.