Theatre
COPPIA APERTA by Dario Fo & Franca Rame
At National Theatre of Northern Greece, Lazaristes Monastery Venue, since 27 November!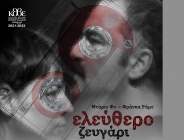 When a married woman becomes exasperated by her husband's constant betrayals, he proposes the formula of the "open couple" to his wife, as an open-minded, civilized solution to marital problems. But what happens when the couple becomes "open"…. on both sides?
A hilarious and critically acclaimed satire by Italy's leading contemporary playwright, Nobel Prize winner Dario Fo and his wife Franca Rame, written in 1983, which explores the sexual mores and the boundaries of marriage. Forty years later this brilliant, caustic comedy remains fresh and as relevant as ever!
Translation : Anna Varvaresou-Tzogia
Direction : Michael Sionas
Starring : Lila Vlachopoulou, Giannis Sampsalakis, Stefanos Pittas

THE ARTBASSADOR has licensed the Greek production on behalf of the Italian Collecting Society SIAE, which represents the rights of Dario Fo, Franca Rame and Jacopo Fo in this play.