Theatre
LE 7EME CONTINENT
Thierry Janssen's black comedy in Athens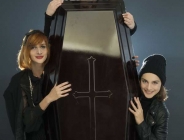 The greek production of the black comedy Le 7eme Continent, written by the playwright and actor Thierry Janssen is being presented at Apothiki Theatre / Athens, translated by Dimitris Psarras and directed by Lina Zarkadoula. Starring Youlika Skafida, Maria Konstantakis and Danae Barka.
Thierry Janssen has written a play about male infidelity, commitment, the illusion of love (common to both sexes), the unfulfilled human nature, solitude and ecological destruction. What are a forecaster, a Greenpeace activist Greenpeace and a criminologist who speaks like a robot, doing in a viewing room?
Who lies in the coffin? Frank, Jacques or Mick? What do Christine, Anais and Lola have in common? Three women, three identities, three parallel lives. In front of the coffin, the three women accidentally discover that they shared the same lover. Little by little they are gathering the pieces of the puzzle, trying to figure which of them was the "first lady" in the heart of the man. Suddenly they find out that their lover is still alive …
Premiere: 21 November 2016. Performances take place on Mondays and Tuesdays, at 9 pm.

THE ARTBASSADOR is very happy to have licensed the greek production of the play on behalf of the French Society SACD and its member / the playwright Thierry Janssen as well as on behalf of the Greek translator Dimitris Psarras.