Theatre
THE LOVER by Harold Pinter
At Neos Kosmos Theatre, Central Stage, since 15 November!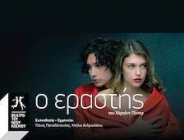 Searching to rejuvenate their love life, a seemingly happy married couple will enter into an enigmatic psychological game of role playing, where nothing is as it seems to be!
"The Lover", a 1962 one-act play, originally written for television, by the 2005 Nobel Prize winner Harold Pinder, premiered in 1963 at the Arts Theatre Club in London. Since then this intriguing work has been staged all over the world, becoming one of the most beloved and famous plays of the theatrical repertoire.
A deep exploration of modern marriage's complexity, with genius plot and the iconic Pirandellian signature!
Translation: M.Moschou
Direction: K. Andriolatou-N. Papadopoulos
Production: NEOS KOSMOS THEATRE
THE ARTBASSADOR has licensed the Greek production, on behalf of F. PINTER LTD, which represents Harold Pinter's rights in this play, via the Agency, UNITED AGENTS LTD.