Music
A. HONEGGER, M. RAVEL, A. DVOŘΑK & D. SHOSTAKOVICH WORKS
25 May 2023
THE ATHENS PHILHARMONIA ORCHESTRA AT THE ATHENS OLYMPIA MUSIC THEATER "MARIA CALLAS"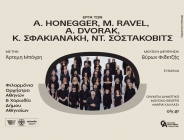 The Athens Philharmonia Orchestra and the Athens Municipality Choir present, in Panhellenic Premiere, the Symphony No. 3 (" First of May") by Dmitri Shostakovich!
Composed in 1929, this remarkable work, which perfectly captures the spirit of youthful optimism of the Soviet 1920s, was first performed by the prestigious Leningrad Philharmonic and Academy Capella Choir, on the date of the sixth anniversary of Lenin's death, in 1930.
Under the music direction of the conductor Byron Fidetzis, the Orchestra, accompanied by the soloist A. Bogri, will also present works by Arthur Honegger, Maurice Ravel, Antonin Dvořák and K. Sfakianakis.
THE ARTBASADOR provided the Orchestra with the music material of Dmitri Shostakovich's work, Symphony No 3, op.20, on behalf of the Publishing House BOOSEY & HAWKES UK.