Music
Ergon Ensemble – In Vain
06 December 2016
Ergon Ensemble performs Georg Friedrich Haas work at Main Stage of Onassis Cultural Centre.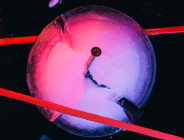 On December 6th at the Main Stage of the Onassis Cultural Centre, one of the masterpieces of the Austrian composer Georg Friedrich Haas, famous representative of the spectral music, was presented. This pioneer composition which takes the audience to a journey through light and darkness to a place that brings to mind a lithography by Escher was performed by the successful Music Ensemble "Ergon Ensemble".
Music Director: Kasper De Roo
Ergon Ensemble Manager: Alexandros Mouzas
THE ARTBASSADOR provided the Orchestra with the music material on behalf of the publisher UNIVERSAL EDITION Austria.