Music
RADIO REWRITE & REICH/RICHTER by STEVE REICH
25 June 2023
ERGON ENSEMBLE AT THE ATHENS CONSERVATOIRE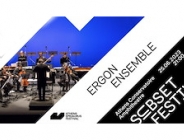 In the frame of the 2023 Athens Epidaurus Festival, the Ergon Ensemble in collaboration with the Athens Conservatoire, presents two iconic works of Grammy Award-winning Steve Reich, Radio Rewrite and Reich / Richter!
In his extremely popular "Radio Rewrite", the great composer works for the first time on pop music material, drawing inspiration from two Radiohead songs.
Reich / Richter, a work for a big ensemble, is presented in Panhellenic premiere, simultaneously with the film Moving Picture (946-3) by Gerhard Richter and Corinna Belz, offering audiences a unique audiovisual experience, through a continuous parallel movement of sound and image.
Music Direction: Kasper de Roo
THE ARTBASSADOR licensed the film projection on behalf of G. Richter and C. Belz and provided the Orchestra with the music meterial of Steve Reich's works, on behalf of the Publishing House BOOSEY & HAWKES UK.