Music
GREEK NATIONAL OPERA: ELECTRA by Richard Strauss
15 October 2017- 31 October 2017
The opening production of the Greek National Opera, in Stavros Niarchos' hall, on the 15th October 2017 with "ELECTRA" by Richard Strauss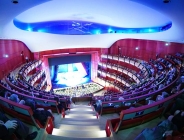 The opening production of the Greek National Opera, in Stavros Niarchos' hall, was realized on the 15th October 2017 with the emblematic work "ELECTRA" by Richard Strauss with the worldwide known Greek mezzo soprano Agni Baltsa in the role of Klitemnistra, in her first cooperation with the Greek National Opera.
The Greek National Opera by choosing this symbolic work of Greek thematology, intends to show that the opera, as well as the lyric art and music theatre are still vivid and everlasting.
The Orchestra of the Greek National Opera is conducted by Vassilis Christopoulos. Giannis Kokkos is the director of the performances and has also designed the settings.
The Artbassador provided the Greek National Opera with the license for the public performances of the opera and with the necessary orchestral and chorus material, on behalf of the Publishing House Boosey & Hawkes Ltd.