Music
EUROPERAS 1 & 2
05 March 2020- 07 March 2020
GREEK NATIONAL OPERA ALTERNATIVE STAGE-STAVROS NIARCHOS FOUNDATION CULTURAL CENTER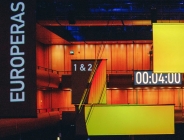 On the occasion of the Greek National Opera's 80th anniversary, on 5 March 2020, the Alternative Stage presents the emblematic meta-opera of the Pope of avant-garde John Cage Europeras 1 & 2, for the first time in Greece.
Europeras 1 & 2 derives its name from the words "Europe" and "opera," suggesting the work's content and sounding like "Your opera". The work's musical "content" is the simultaneous presentation of arias and duets heard within instrumental excerpts, drawn from 64 European operas of the past, ranging from Gluck to Puccini.
Written between 1985-1987, Cage's work is a stormy memory game, a kaleidoscopic operatic collage of 105 arias, 5 duets, 1942 musical excerpts from 64 operas, 101 excerpts from recordings and 112 scenes that overturns the operatic tradition as a genre and constitutes a laudatory as well as a vitriolic take on the 18th and 19th century operatic repertory.
"For two hundred years Europeans sent us their operas. Now I send them back to them." - John Cage
Especially for the purposes of Europeras 1 & 2, stall seats have been removed from the Alternative Stage, so that the entire ground space can be used as stage. The audience will watch the performance from the balconies, where they will be able to move freely and follow the action from different angles, enjoying a rare operatic experience. Each one will watch their own version of Europeras 1&2 or "Your operas", as John Cage named his work.
In GNO Alternative Stage's production, this emblematic work is performed by the Athens Youth Symphony Orchestra (ASON) and Youth Opera under the musical direction of conductor Michalis Papapetrou. The theatrical direction is signed by Zoe Hadjiantoniou.
The Artbassador, provided the Orchestra with the music material of the work, on behalf of the Publishing House C.F.PETERS LTD & CO KG.