Music
European Music Day: Symphony Orchestra of the Greek R/TV ERT
21 June 2017
The National Symphony Orchestra of the Greek R/TV ERT celebrates the European Music Day at Herodus Atticus Odeon with works by Bach, Moussorgsky,Rota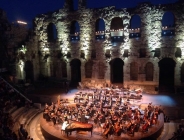 The National Symphony Orchestra of the Greek R/TV ERT, celebrated the EUROPEAN MUSIC DAY, in a great concert which took place at Herodus Atticus Odeon on June 21st, in the frame of Athens Festival 2017.
Under the direction of the artistic director Anastassios Simeonidis, the Orchestra presented works by Johann Sebastian Bach and Nino Rota at the first part and Modest Moussorgsky at the second part.
Τhe following works were presented:
Johann Sebastian Bach: "Fantasy and Fugue BMW 542 in Sol Minor" in transcription for opera by Dimitris Mitropoulos.
Nino Rota: "Concerto No.3 for piano and orchestra in Mi Minor" 'PICCOLO MONDO ANTICO' with the participation of the soloist Christos Papageorgiou.
Modest Moussorgsky: "Pictures from an exhibition" in Maurice Ravel orchestration.
The Artbassador provided the Orchestra with the music material of the work PICCOLO MONDO ANTICO by Nino Rota, on behalf of the Publishing House SCHOTT Music.