Theatre
4th ATHENS CRIME FICTION FESTIVAL
03 May 2023- 25 May 2023
At Athens Serafeio Culture & Athletic Center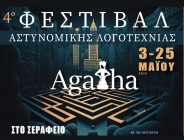 The renowned Crime Fiction Festival returns to celebrate the art of storytelling for the fourth consecutive year, hosting exciting lectures, readings and special events for mystery lovers of all ages!
The month long festival culminates in a three day event at Athens Serafeio Complex, featuring some of the best Greek mystery writers, along with Chris Carter and Arne Dahl.
In this great celebration of detective literature, the audience will have the opportunity to enjoy Agatha Christie's unique masterpiece work, "And Then There Were None", in a marvelous semi-staged performance, starring 9 writers and 1 publisher, who will find themselves on an isolated mansion off the Devon coast, all invited by an unknown and dangerous host.
Direction: Adonis Galeos
Production: AGATHA AMKE
THE ARTBASSADOR has licensed the Greek production, on behalf of AGATHA CHRISTIE LTD (ACL), which represents Agatha Christie's rights in this play.