Theatre
OSCAR ET LA DAME ROSE by Éric-Emmanuel Schmitt
At Athinon Theatre, since 16 October!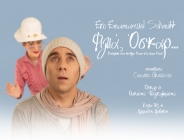 Ten year old Oscar lies in a hospital bed, suffering from a serious disease. He only has a few days left to live. But when the imaginative and charismatic "Pink Lady" enters his life, a unique friendship will grow between them and his last days will become legendary!
''Οscar et La Dame rose'', a poetic novel by Éric-Emmanuel Schmitt, one of the most widely read and performed French-language authors in the world, was adapted for the theatre by the author himself and was first presented on February 2003, at the Comédie des Champs-Elysées, directed by Christophe Lidon, causing a huge sensation. Following its great success, the play was transferred to the big screen (2009), under the direction of Schmitt, who also wrote the screenplay.
A majestic work of great tenderness, charm and beauty, in an absolute must see performance!
Translation : A. Kyriakidis
Direction : Cezaris Graužinis
Production : A. TSALTABASIS & CO LP
THE ARTBASSADOR has licensed the Greek production, on behalf of the Agency ''AGENCE DRAMA Suzanne Sarquier'', which represents Éric-Emmanuel Schmitt's rights in this play.