Theatre
FILUMENA MARTURANO by Eduardo De Filippo
At Dimitris Horn Theatre, since 26 October!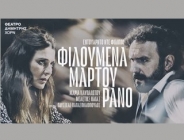 In the late 1940s Naples, Filumena Marturano, a woman who has devoted her own life to her beloved life-in companion Domingo and is waiting patiently for a proposal, decides to make her dreams come true, using any means necessary, even cunning old tricks...
Written in 1946 by the Italian playwright Eduardo De Filippo, this famous comedy drama is arguably his magnum opus. Since its debut in Naples (1946), the play has been continuously performed in the global theatrical scene, always thrilling audiences with its fascinating story about family, love and dignity.
Direction: O.Papaspiliopoulos
Production: TEXNIXOROS
ΤΗΕ ARTBASSADOR has licensed the Greek production, on behalf of the Italian Collecting Society SIAE, which represents the right owners of Eduardo De Filippo.