Theatre
FUENTE OVEJUNA by Lope de Vega
At Ziller Building-Main Stage of National Theatre, since 28 October!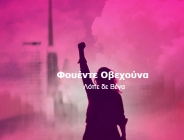 A dramatic event, the brutality and authoritarianism of Commander Fernán Gómez, turns the entire village of Fuente Ovejuna into a hero! The memorable true story of a village which revolted protecting its own rights.
A classic masterpiece of Spanish Golden Age literature, by a major writer and poet Lope de Vega, the most popular and influential dramatist of the period, which portrays one of the most memorable acts of resistance in world drama.
Τranslation : Maria Chatziemmanouil
Direction : Eleni Efthymiou
Production : NATIONAL THEATRE OF GREECE
ΤΗΕ ARTBASSADOR has licensed the Greek production, on behalf of the translator of the play Maria Chatziemmanouil.