Theatre
AUTUMN AND WINTER by Lars Norén
At Theatro Odou Kefallinias, since 15 October!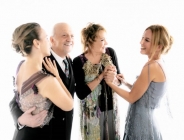 Families. Can't live with them. Can't live without them.
A regular family dinner with mother, father and their two daughters, develops into an evening full of accusations, guilt and denial. The brittle familial harmony collapses and in the end, the four are not just a family – they are four human beings, each one with his own truth.
Following in the footsteps of renowned Swedish author August Strindberg and film director Ingmar Bergman, the multi awarded Lars Norén is considered the greatest contemporary Swedish playwright since August Strindberg. He has written more than 70 plays which combine humor with a powerful emotional impact, being one of the most produced and influential playwrights in Europe.
Translation : George Depastas
Direction : Nikos Mastorakis
Production : PRAXI
Starring : Betty Arvaniti, Anna Kalaitzidou, Maria Kallimani, Alkis Panagiotidis
THE ARTBASSADOR has licensed the Greek production, on behalf of the Agency Rowohlt Theater Verlag, which represents Lars Norén's rights in this play.