Theatre
FUGA - 2nd season!
The story which is based on true events, is a real case of corruption that had plagued the Catalan government.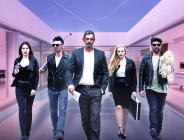 The Catalan Jordi Galceran strikes again. After the award-winning -including two awards Goya- play "The Gronholm method" that made him famous worldwide, he comes back with a play which succeeds in fascinating the viewers, from the very first scene.

A minister, a scandal, a suicide attempt because of deep depression, events and surprises throughout the play, captivate the audience. The plot, according to the playwright, is based on true events, a real case corruption that had plagued the Catalan government. Because of this, and especially for the needs of the premiere in Madrid, some modifications in the original play had to be made.

The Minister Isidro Galliana, who has resigned because of a scandal that was revealed against him, decides to end his life, in the villa which he had "won" thanks to his scams. Before that, he wishes to have the companion - for the first and last time - of a… professional. However, not only a call girl, but also a mysterious salesman, a hired killer and a ... dumb paralyzed mother in law will pass by the villa. Apart from all this, he has to overcome his grief when he finds out that his wife has entered into a love affair with the journalist who revealed the political scandal.

The play FUGA, translated in greek by Maria Chatziemmanouil, was presented for the first time at OLVIO theatre / Athens during the period 19/3 – 29/5/2016. Performances continue for a second consecutive theatrical period, as from 14/10/2016, starring Leonidas Kakouris, Fay Csila, George Chraniotis, Konstantinos Giannakopoulos and Betty Apostolidou.
THE ARTBASSADOR has licensed, with great pleasure, the greek production of FUGA on behalf of the translator Maria Chatziemmanouil.