Theatre
YERMA by Simon Stone, after Federico Garcia Lorca
At Porta Theatre, since 3 November!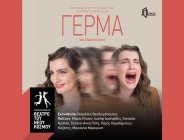 In present-day London, a contemporary woman's desperate desire to have a child, will turn into an obsession, leading her to the ultimate catastrophe!
Inspired by the 1934 Lorca's "Yerma", Simon Stone's radical adaptation of this theatrical masterpiece thrilled audiences and critics, since it premiered at the Young Vic, in 2016, becoming one of the UK's most acclaimed and awarded productions of the decade.
An outstanding, powerful reinvention of a familiar classic play, by the acclaimed Australian creator Simon Stone, in an absolute must see performance!
Translation: K.Sotiriadou-D. Kiousis
Direction: V. Theodoropoulos
Production: NEOS KOSMOS THEATRE
THE ARTBASSADOR has licensed the Greek production, on behalf of the Agency STACEY TESTRO INTERNATIONAL, which represents Simon Stone's rights in this play.