Theatre
GIRLS & BOYS by Dennis Kelly
An extraodinary new play about the catastrophic power of patriarchy!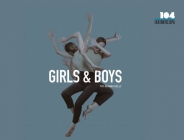 "Girls and boys" The new play, by the Tony award-winning author Dennis Kelly, had its world premiere in February 2018 at the Royal Theater in London, directed by Lyndsey Turner, starring BAFTA Award-winning Carey Mulligan, shocking audiences and enjoying rave reviews. Following its acclaimed run in London, the powerful play in Panhellenic premiere, was presented during the theatrical season 2019-2020 at Theater 104/Athens, produced by WHAT IF PRODUCTIONS, translated and directed by Anna-Maria Stefadourou, starring Dora Pardali. After its enormous success ,the absolutely sensational performance continue for a second run starting 17 October!
A tragic, violent look at parenthood and trauma, Denis Kelly's stirring monologue examins the relationship between the sexes and explores the ways in which each is wired to create and destroy, presenting a pulse-pounding story you absolutely need to hear!
A young woman recounts the story of her life. A story about youthful recklessness, romance, passion, and fate; falling in love with the man of her dreams; finding herself happily married and a mother to two beautiful children, with a flourishing and fulfilling career, and a promising future. It was a perfect life; Until it wasn't. In time their marriage starts to collapse and things take a disturbing turn, leading them to a violent path with disastrous consequences and a tragic end…
"I don't remember exactly when things with us started to go properly wrong – I just remember suddenly finding myself in it."
THE ARTBASSADOR has licensed the Greek production, on behalf of the UK Agent CASAROTTO RAMSAY & ASSOCIATES LTD.